I started this business in 2009 with a different vision in mind - a vision where my name is more important than money.
We run our business based on principles of honesty, integrity, and most of all the GR: "Do unto others as you would have them do unto you." The goal of our agency is not to make a "quick buck" but rather to have a very good long term relationship with you for years to come. Our motto is "to look out for YOUR best interest" One of my personal goals in life is to help people see that your life will be much better if you "actually care" about other people, instead of only caring about yourself, only looking out for your own best interest. I can honestly say that this is the key to my success in life. I can tell you, even if you are not the right fit for our agency, that we still ACTUALLY care about you, your well being, and your best interests. This is how we do business.
When you have us shop your insurance, you don't just get a quote from one insurance company, But we quote you with the spread of over 20 of the most competitive A.M. Best A-rated companies on the market such as All-State, Progressive, Safeco/Liberty Mutual, Nationwide, Hartford, MetLife, Travelers, State Auto, Grinnell Mutual, and several more. And we are a directly appointed agency with all of the companies, we are not just a brokerage… We are directly appointed with all of the companies, and that gives us the best rates available on the market with those companies!"
We almost always can find the best rates anywhere in the market. 7 out of 10 times we quote someone, we are able to give them better coverage, and save them money… If you are better off to stay where you are, we will tell you. We find the right fit for you that fits your specific needs… Every company is different, and every company has a different rating platform. The way the companies rate you is very complex, and that is why it is such a benefit for us to quote you with over 20 companies competing for your business and find the right company to insure you.
We will keep you on the cutting edge of the ever-changing Insurance Industry. Our agency is an SIAA Insurance agency (Strategic Insurance Agency Alliance). SIAA has a very high standard of excellence, and it is very difficult to become an SIAA agency. Because we are under the SIAA umbrella, which now makes up close to one out of every 7 independent insurance agencies in America, we are able to be directly appointed with many insurance companies instead of just a few. The way the insurance companies view SIAA is one gigantic agency comprised of many small agencies. Because of this, we do not have stringent quotas with all the companies. That is why we are able to represent so many different companies and almost always find you the best rates.
SIAA also keeps us on the cutting edge of the every changing insurance industry and on the cutting edge of technology that helps us service our clients. They always keep us "in the know" with what is happening in this crazy zoo of the insurance wold. All of this enables us to offer many value added services that most agencies do not offer. One value-added service is that our agency has it's own smartphone app, enabling you to view your insurance policy, id cards, pay bills, file claims, communicate with the agency, and much more!
We are one of the fasted growing insurance agencies in all of southern Missouri. We make this so easy for you. You don't even have to get up off your couch! We can bind coverage right over the phone and send you a first-class business packet over the mail. We provide a return envelope for you to send back the signed docs, and make everything super easy and streamlined for you. Or, we can do it all via email/fax. We try our best to go above and beyond any other agency in the market! Our office is well staffed and we want to make sure we keep a good long term relationship with you and give you the best service you will find anywhere in the industry.
We are endorsed by Dave Ramsey, a financial specialist who helps people get out of debt. We are Dave Ramsey's Endorsed Local provider (ELP), and we have one of the biggest territories in the nation out of all of Dave's ELP's, we represent over ½ of the state of Missouri as our territory… We have also been one of the top-rated ELP's nationwide! The reason why Dave Endorses us, is because he has helped millions of people around the nation to get out of debt and save money. One way he helps people with this, is to advise on how save money on their insurance and make sure they are properly covered. Dave's staff has qualified us and knows that we are very often times able to save people substantially on their insurance.
Why do business with Golden Rule Associates?
Unlike a captive, or direct insurance company who only offers their own proprietary products, our agency is 100% independent of any one company. Many insurance consumers don't fully understand just how important that really is.
When it comes to something as important as insurance, it's imperative that you work with an agency who has an in-depth knowledge of multiple insurance products, companies, and guidelines — not just one.
At the end of the day, what separates one agent from another, is their ability to proactively service their policy holders, and their knowledge of the insurance industry, products, and different situations that may present themselves to their clients.
Independent Agent Vs. The Rest
Here is a quick comparison of the differences between an independent agency like us, and the various other types of companies that are out there: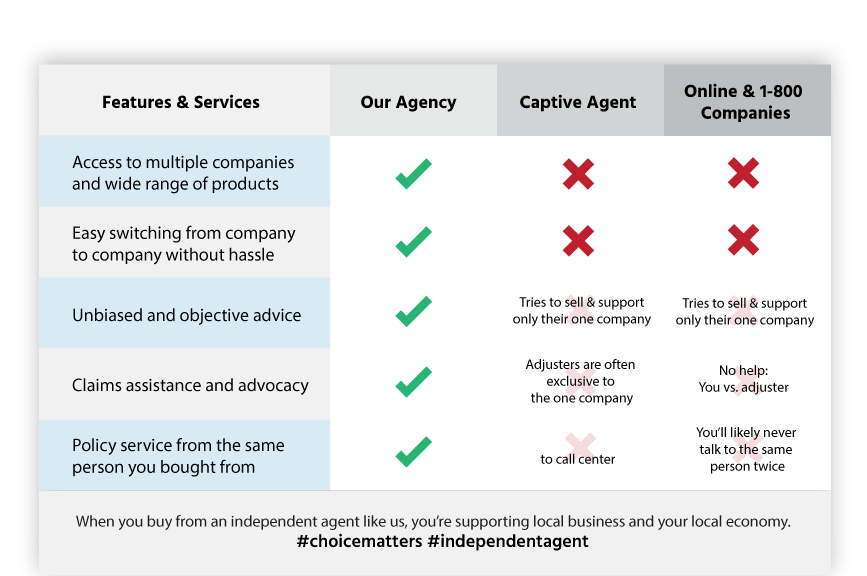 If you'd like to get started with a complimentary quote and/or policy review, we'd be happy to help you any way we can. Simply complete the fields below to get started online in a matter of seconds.
We appreciate the opportunity to help you, and look forward to servicing your insurance needs! Feel free to call us directly if you have more detailed questions.