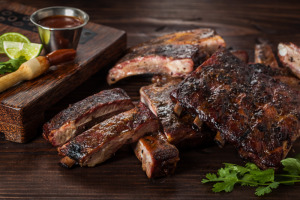 You say that your new barbecue spot is going to be the best in Jackson. Not only do you have a secret technique that makes the tender barbecue meat glide off the bone at the touch of your fork, you're also throwing in a fusion of modern, organic flare.
You've done your leg work, secured your investors, and lined up your suppliers, and you're finally realizing that starting a new restaurant is hard. It takes a lot of time, a lot of money, and has a ton of unanticipated events and expenses. From the little things like napkins and kitchen utensils, to employee salaries, there's a lot of expense to account for.
But once you get your restaurant concept off the ground – make sure it stays off the ground with the right insurance coverage. You wouldn't want to lose out on income because your free-range chicken supplier failed to deliver two weeks in a row.
Here are 3 insurance coverages restaurant owners need:
#1.  Business Income Insurance
Business income coverage can help in a number of ways including:
Replace lost net income
Pay for continuing expenses, such as mortgage, advertising, taxes and payroll
Pay for relocation expenses and advertising fees if you have to move to a temporary location
Coverage for events beyond your control such as fire, wind, hail, vandalism or damage from vehicles
#2.  Extra Expense coverage
Extra expense insurance covers expenses that are beyond your normal operating costs. Depending on your type of business, extra expense insurance by itself can sometimes be enough coverage in case of a financial emergency, but be sure to discuss this with your insurance provider.
#3.  Dependent property coverage
If your restaurant depends on the delivery of a specific product, then dependent property coverage is for you. Dependent property coverage comes into play when:
Your suppliers are unable to produce goods or services that your restaurant depends on
Your customers are unable to receive your company's goods or services
Companies that manufacture products for direct delivery to your customers can no longer fulfill orders
A company in your immediate vicinity that's responsible for attracting customers to you goes out of business
Be sure to talk with your insurance agent so you can run through the list of things to anticipate when starting and running a restaurant – it's best to be prepared for all situations when your business, employees, and amazing new concept are on the line.
Just because you have a great organic, modern fusion restaurant concept in play, it doesn't automatically translate into immediate success. Having the right coverage will help you protect that path to culinary success, and perhaps even to Food Network fame.