//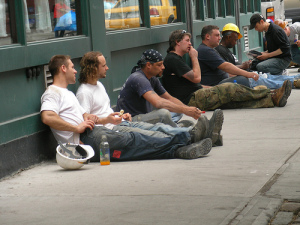 You made it through the financial and housing market crashes. You watched your industry grind to a halt and slowly claw its way out of a black hole of job loss, financial ruin and inactivity.
Things are finally on the upswing again as construction is a thriving industry with a positive outlook. So, what is the reason to worry?
The new construction crisis
If you are a contractor or construction business owner you might believe your days of worrying are over. However, now you are faced with a problem completely opposite of years past: too much work and not enough workers.
How is too much work a problem?
In theory having so much work demand that you can't keep up sounds like a dream scenario, especially compared to a few years ago when the exact opposite was the case.
Think about it. More jobs equals more money. More jobs means not having to lay off workers or make tough business businesses. More jobs means an end to all problems right?
Wrong.
While there are now more jobs, there aren't more workers and this is becoming a big problem.
Why is there a labor shortage?
The construction industry is facing a shortage of newly qualified workers. There aren't enough skilled individuals to fill the jobs at the performance levels needed to do quality work in a safe manner.
Why not just hire a bunch of young workers?
While you surely don't notice a shortage of young people responding to your job postings, you might notice a lack of skills among applicants.
Hiring unqualified workers is as big a problem as not having enough workers to complete a job, if not more so.
Why are unskilled workers dangerous?
Unskilled workers, at any age, are problematic. However, nowadays, many younger employees lack the training and skills needed to compete within the industry.
One of the biggest liabilities you might face as a contractor or construction business owner is the risk of injury.
Construction can be dangerous to begin with, but workers that don't know safety hazards pose an even greater risk.
In fact, according to a recent Insurance Journal article, Rick Keegan, president of the Construction Business Unit at Travelers, estimates that up to 40 percent of all work-related industries in the field happen during the first six months of employment.
Inexperienced workers not only get injured more frequently than seasoned workers, but the injuries tend to be more severe as well.
How does this hurt my business?
You are often left to pay high medical costs, workers' compensation wages and deal with periods of long disability. In addition, your company's risk profile may be affected and you might risk not having enough efficient help to complete your jobs.
You might think a solution to this problem is just to hire veteran workers. However, the industry is currently aging and many skilled workers left the field during the economy downturn. Others are retiring, leaving a big skill gap in their wake.
Also, another problem you might face is injury to other seasoned employees. While these injuries happen less, they can often be more costly, making the labor shortage problem even trickier.
There are many angles to this crisis that must be explored but we can handle the insurance end of things. Contact us to see how we can help.